Major Carrier Violation History
The Interstate Commerce Commission maintains violation histories for each major carrier, licensed in Interstate Commerce.
To look up any motor carrier, click here.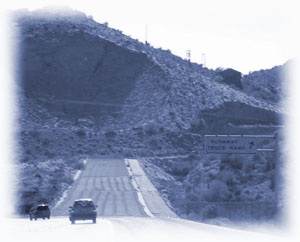 Runaway Truck Ramp
In order to assist the most people, we have compiled trucking safety information on many of the largest trucking firms in the U.S. For information on specific trucking firms, click on the links below or click through this section to view all trucking firms.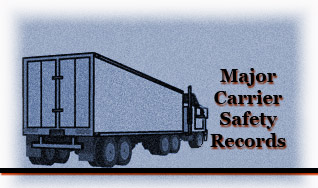 Airborne Express, Seattle, Washington
Central Freight Lines, Waco, Texas
Clark Freight Lines Inc., Pasadena, Texas
Continental Express, Inc., Little Rock, Arkansas
Con-Way Inc., Ann Arbor, MI
Federal Express Memphis, TN
JB Hunt Transport Inc., Lowell, Arkansas
Landstar Ranger Inc., Inc. Jacksonville, FL
Schneider National Trucking, Green Bay Wisconsin.
Swift Transportation, Phoenix, Arizona
UPS
Walmart
Werner Enterprises Inc., Omaha, Nebraska
Yellow Transportation
NEXT: Airborne Express
For more information go to Atty Gordon Johnson